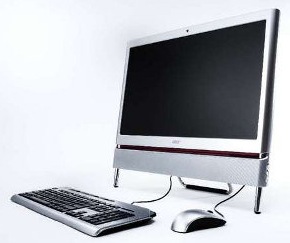 Acer are working on three touch-enabled devices, according to a project manager from their mobile computer department, which will take advantage of Windows 7's native touchscreen support.  While no specific product details were mentioned, the employee did suggest that touch-sensitive netbooks could better take market share if they were positioned as "cheaper alternatives to tablet PCs", which may indicate that one or more of the Acer devices are just such a netbook.
The talkative manager in question, Shih Hung-wu, also discussed in-cell touch panel technology and its potential to reduce overall device cost.  Rather than adding on a touch-layer to an existing LCD TFT or other type of display, in-cell panels combine the TFT and touch layers during the initial manufacturing process.
Acer will, Shih continues, be looking to adopt in-cell touch panels once mass production begins, though he gave no estimates of timescale for that taking place.  Earlier this week, MSI were tipped to be preparing Windows 7 netbooks based on Intel's next-gen Pine Trail-M platform with touchscreen technology, for a release in December this year.