Getac 9213 "Business Rugged" notebook blends sturdy and stylish
Rugged computers generally look like a cross between the Michelin Man and some sort of inflatable life-raft, so it's nice to see a notebook that wears its shock-resistance discretely. To be fair to the competition, the Getac 9213 is described as "business rugged", which means while its full magnesium allow chassis and case, and shock-mounted HDD and 13.3-inch WXGA display may stand up to the occasional bump and drop, it's not quite in Panasonic Toughbook territory.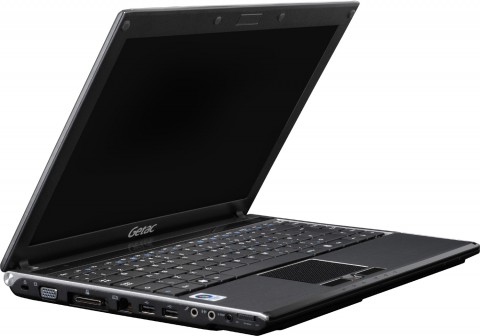 Still, there's a spill-resistant keyboard and touchpad, and the rest of the hardware specs aren't exactly lacking. A 45nm Intel Core 2 Duo Penryn-class ULV processor provides the grunt, along with 3GB of RAM and 160GB HDD (250GB optional), and battery life is tipped at up to 8hrs. Pop out the optical drive and you can fit a second battery, pushing that figure up to 12hrs.
There's also WiFi a/g/n, Bluetooth, a 1.3-megapixel webcam and digital microphone array. A fingerprint scanner and integrated TPM security module round out the hardware. The Getac 9213 is available now, with an MRSP of $1,799.
Press Release:
GETAC INTRODUCES NEW 9213 BUSINESS RUGGED NOTEBOOK

Light, Compact Notebook Offers World-Class Rugged Protection and Advanced Features and Functions Found Only in Larger, Heavier Notebooks

LAKE FOREST, CA. July 09, 2009 — Getac Inc., a leading innovator and manufacturer of rugged computers that meet the demands of field-based applications, is introducing its smallest and lightest business-rugged notebook computer. With its full magnesium alloy chassis and case and shock mounted HDD and LCD, the Getac 9213 can handle all the bumps, drops, and mishaps that would render conventional commercial notebook computers useless. In addition, it boasts a spill-resistant keyboard, touchpad and surrounding surface to protect the notebook from accidents that often happen in "friendlier" surroundings like the office. These rugged features, along with its compact size, lightweight design and advanced functions, make the Getac 9213 the ideal mobile computing companion everywhere business takes you.

As a business notebook powered by the latest ultra-low voltage 45nm Intel Core 2 Duo Penryn Processor, the Getac 9213 provides outstanding battery life up to 8 hours and its removable optical drive allows for an additional battery for up to 12 hours of power – a must-have option for on-site and remote operation.

When it comes to data security, the Getac 9213 is at the top of its class. Advanced solutions for added security include a built-in TPM security module and fingerprint scanner to ensure only authorized personnel are gaining access to valuable and sensitive documents. Its shock-protected HDD also ensures that information is safe from damage due to excessive abuse from everyday use in the field.

"Our customers and resellers have been asking for a business-rugged computer that is small and lightweight but still offers many of the durability and security features found in our fully-rugged products," says Jim Rimay, president, Getac, Inc. "By leveraging 20 years building fully rugged computers, we were able to design the new Getac 9213 to withstand the drops, shocks and spills mobile professionals experience in an incredibly lightweight system with excellent battery life."

The Getac 9213 incorporates a number of additional features including a 1.3 megapixel webcam and two digital mic arrays. When combined with its built-in 802.11 a/g/n WLAN and Bluetooth functions, users can wirelessly communicate information, access the Web and interface with mobile devices and peripherals for optimal versatility. Its bright 13.3-inch widescreen WXGA TFT LCD monitor with LED backlight gives users the flexibility to effectively use the notebook in virtually any lighting condition. With 3GB of on-board memory and 160GB of storage (with optional 250GB capacity), users will find the 9213 to be fast and responsive.

About Getac
Getac, Inc., A subsidiary of MiTAC Technology Corporation, was founded in 1989 as a joint venture with GE Aerospace and has been a pioneer and innovator in the rugged mobile computing industry ever since. Getac provides premier fully rugged, rugged and semi-rugged notebook, tablet PC and handheld solutions for the military, law enforcement, public safety, utility, telecommunication, manufacturing, field service and mobile workforce industries. All Getac rugged models are strictly controlled and monitored from the design, manufacture, quality assurance to service flows, making Getac an industry-preferred rugged computer provider. For more information, visit www.getac.com.